Do these 10 Indian sites really exist?
India- how are you going to define this country? The answers to this interrogation are countless, but let me tell you the exact definition aptly from my perspective- India is a Land of Surprises. Each and every river, road, highway or region is a surprise package! Do you think it is possible to get your travel cravings satisfied at a single hub? Yes, indeed you can get it done here in India.
Just in case, you are planning to explore India I would really suggest you to have an experience of some unusual destinations here! Unusual? Yes, you read it right! There are a good number of strange places prevalent in India surely going to leave you awestruck with the unusual stories associated with them. Sounds astonishing, isn't it?
I have brought up the top 10 Indian sites which you could never believe even exist and thus, should definitely visit no matter what. Read on:
Magnetic Hill, Ladakh
The Magnetic Hill Of Ladakh- Adventure Junkies Are Most Welcome Here! Any Of Those Riders Who Are Tired Of Driving On The Highways Can Stretch Their Legs And Have Some Rest At The Magnetic Hill. But Why This Name? It Is Said That This Hill Is Emitting A Very Strong Magnetic Force That Is Responsible For Pulling The Vehicles Towards It. None Is Sure On Whether This Happening Is An Optical Illusion, Magnetic Force Theory Or Just A Superstition.
Source: https://www.makemytrip.com
Hanging Pillars Of Lepakshi
The amusingly carved Lepakshi Temple also known as the Veerabhadra temple dates back to 16th century. This spiritual site is a hub of mysteries and it is considered so because of its amazing hanging pillar. There are 70 gigantic pillars inside this temple and one out of them is highly distinct due to it being hung from the ceiling. You can easily pass any flat object such as a paper, or any other piece of cloth from this pillar's side to the other.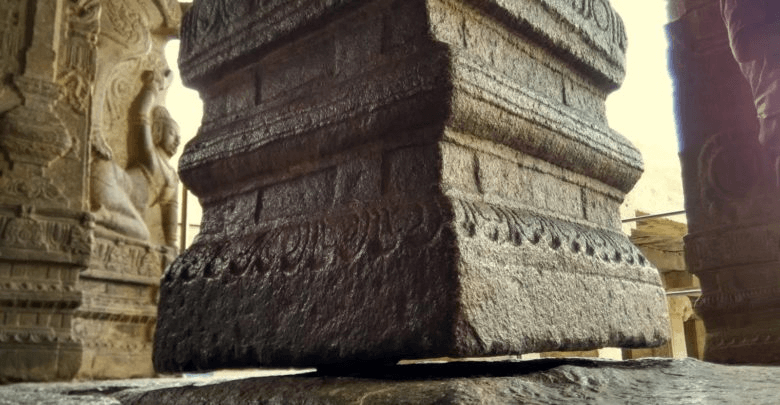 Image source: https://trendpickle.com
Shani Shignapur, Maharashtra
Is it safe to stay in a house if it has no doors? Yes it is- 'but only if you are in Maharashtra's Shani Shignapur village'. A place with zero crime despite of having no doors and locks, Shani Shignapur is considered to be one of the most mysterious places in India. That's quite unusual to note that the villagers deny any kind of security due to their dire faith in Lord Shani (recognized as this village's guardian). On noticing this astonishing mystery, India's first lockless bank i.e. UBC has been incorporate in this village.
Image source: http://amazingindiablog.in
Spiti's Mummy Of Sangha Tenzing
It's a 500 years' old Mummy! Unbelievable right? Present in Spiti's Ghuen village, the Mummy of Sangha Tenzing is accompanied with a plethora of mysteries, myths and beliefs. As the research and other reports entail, this mummy is preserved in a well-organized manner and it still has got some hair on its head, also the skin is unbroken till now! It was during the earthquake of 1975 that led to the formation of an ancient tomb and this was accompanied with the Sangha Tenzing's mummy in it. Sangha Tenzing was a monk and he died in a sitting position and a rope was witnessed around its neck as well as the thighs.
Image source: https://in.pinterest.com
Karni Mata Temple, Rajasthan
Have you ever seen a gigantic myriad of rates at a single place? If no, then you should definitely head towards Bikaner's Karni Mata Temple. There are approximately 20,000 black rats in this temple running restlessly from here and there and while being in this divine hub, you are definitely going to spot the rats at each corner. These rats (also known as kabbas) are 'holy' and hunting, disturbing or disrespecting them shall lead to a problem for you since these acts are not at all allowed there.
Image source: https://www.bhaskar.com
The Drowning Church, Karnataka
Spotted at a distance of approx. 22 kms from Hassan, the Shettihalli Rosary Church also prominent as the Drowning Church is nowadays in the limelight for its peculiar characteristics. This site drowns when the monsoons hit its region and comes back during the summertime. The French missionaries tried out their skills in establishing the Drowning Church in 1860 and now this spot is in ruins! Its location lies unexplored since it stands on a barren land with no roof on its top.
Image source: https://en.wikipedia.org
Roopkund, Chamoli
The most picturesque but also the most mysterious and strange, Roopkund Lake is a centre of discussion amongst varied travellers now! This glacial lake has been spotted with the presence of 30 skeletons around it. Where did they come from? How old are these and are these real? Plenty of questions strike a visitor's head whenever he/she sees it in front of his/her eyes! Most of the time this lake is frozen and the moment it melts during summertime, the skeletons become visible. Due to the chilly climate and frozen conditions, some of these skeletons still have flesh on them! Unusual, isn't it?
Source: http://www.indiamarks.com
Ananthapura Lake Temple
Say hi to Babiya- the vegetarian crocodile! Not only a crocodile, but it is also the guard of the pious Ananthapura Lake Temple. Fed like an elephant when the pilgrims put the Prasad made from the jaggery and rice in its mouth, Babiya has become an epitome of a holy animal and thus, it has made the Ananthapura Lake Temple 'a centre of attraction' for millions. Its existence has been noted since 1945 and also, it is witnessed that this animal does no harm to the marine life in this lake.
Source: https://www.thehindu.com
Valley Of Flowers, Uttarakhand
Once you are here, you can't get over it! Yes, this is the beauty of Uttarakhand's Valley of Flowers. Tucked very beautifully in the Chamoli district, no one ever knew that this even exists until Frank S Smythe noted it! While he was back from his journey to Mt. Kamet, he came across the Valley of Flowers and since then, this is continually proving to be a heartthrob of beauty seekers. While being here, you will see an array of colourful flowers leading to the formation of a colourful shade as the sunlight comes and goes.
Source: https://www.lehladakhxp.com
Nohkalikai Falls, Cherrapunji
India's fifth highest waterfall Nohkalikai in Meghalaya falling from an utmost elevation of 1,115 ft. is considered to be the wettest place not only in India but all across the world. This name is accompanied with a literal meaning "Jump of Ka Likai" where 'Ka' denotes female gender. The falls are sadly associated with a really tragic story leading to their being considered as an intriguing spot for the visitors. It is said that a woman namely Likai jumped off from the Nohkalikai Falls when she got to know that her baby has been chopped by her second husband and thus, the falls got such a name.
Source: http://www.scrolldroll.com
Amazing and intriguing at the same time, isn't it?
Go back to main blog page